We've listed the best country towns near Melbourne which are close enough to visit in a day or over a weekend. Country Victoria is one of our favourite parts of Australia and definitely our favourite regional area out of all of the states! These country towns near Melbourne have an abundance of fantastic small businesses, including jewellery stores, antiques, clothes and eateries to enjoy.  The historic buildings and very cute houses (and pubs too!) make for a great day trip or weekend exploring this beautiful area of Australia. 
Check out these 5 country towns near Melbourne and get to know the best places to eat.  Vegetarian and vegan friendly options too!
1. Daylesford - 1hr 30mins from Melbourne
Daylesford is a beautiful, quirky town.  The town is full of antique shops, art galleries and independent shops and cafes. Aside from attractions on the main street, Daylesford is also surrounded by so much natural beauty.  Daylesford is famous for its natural springs and is known as the Spa Centre of Australia.  Soak in the atomosphere with the lovely walks around Daylesford Lake and the surrounding springs and waterfalls.  Take a bottle with you so can sample some natural sparkling mineral water straight from the spring!  If you'd like to experience some more walks and springs, head to the nearby Hepburn Springs.  Here you will find a town also full of cute accommodation options and spas.  Furthermore, be sure to head up Wombat Hill for amazing views!
This is easily the favourite on our list of country towns near Victoria.  We were lucky enough to work around here during the pandemic for a few months too!
Where to eat
Lakehouse - for meals with a fab view of Lake Daylesford.  Check the lake out around sunset, it's stunning!
Daylesford Seafood Bar - for high-quality fish & chips for a really great price!
Larder – for great coffee and really delicious food options, such as crumpets with smoked salmon and dill sauce or Vietnamese slaw.
Pastry King Bakery – for delicious bakery options and pasties.  Pastry makers for over 75 years so they won't let you down!
Himalaya Bakery – for fantastic vegan pies and sweet bakery goods.
Pizzeria La Luna – really tasty pizzas with fab topping options.  Also, the homemade chocolate brownie is oh so good!
The Royal – an excellent pub in Daylesford, where you'll find all the locals and superb pub classics.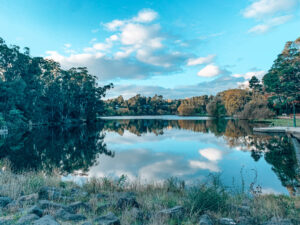 2. Bendigo - 2hrs from Melbourne
Bendigo is another large area of Country Victoria.  This city is much like a final stop before it starts to get really regional.  Here you can find Australia's major stores, such as the department store MYER and the chain restaurants you'd find in Melbourne, including Grill'd and Schnitz.  However, it also has heaps of independent places to check out too.  Explore the hidden underground tunnels to see gold in the actual Gold Rush mines at the Central Deborah Gold Mine.   In addition, check out some of the amazing art galleries and historic buildings.  Alternatively, do something a bit different and take in some Chinese culture at the Golden Dragon Museum.  As well as that, see Bendigo in a relaxing way by hopping on Bendigo Tramways, where you can enjoy the city from a vintage tramcar.
Where to eat
Masons of Bendigo - This one is for those looking to treat yourself.  Housed in a historical Mason glass factory, this relaxed but fine-dining restaurant dishes up amazing, colourful plates.  A scroll through their Instagram will have you wanting to book immediately! Their lunch is very reasonably priced and will allow you to try some of the local produce too.
Wine Bank - Located in a heritage-listed former Victorian bank, this is another place that's great for a treat.  Mainly a wine bar, Wine Bank has also made a name for itself by serving delicious Mediterranean inspired foods. Definitely worth heading here just for a lovely glass of wine, maybe even accompanied by one of their tasty cakes in the day.
Chancery Lane - This laneway will have you feeling like you've teleported into Melbourne's CBD.  Find plenty of places to eat lining the street, along with bars and boutiques.  El Gordo and The Dispensary are particularly popular.
The Old Boundary Hotel - Head here for some great pub classics, in a lovely setting.  The Terrace is fab on a summers day.  This pub also has a separate vegan menu!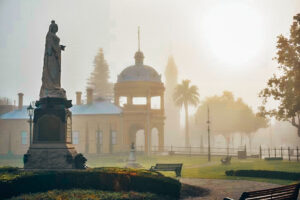 3. Creswick - 1hr 30mins from Melbourne
Creswick is a cute town between Daylesford and Ballarat.  There are a few independent clothes stores to check out, cafes and scrumptious bakeries.  Go on one of the many walks in the surrounding areas or even visit some local cider and wineries.  If you want to stretch your legs, even more, there are free tennis courts here.  The tennis equipment is available for hire at the Information Centre.
Where to eat
Red Fox Coffee Lounge - for some lovely homemade baked goods, such as tarts, pasties and muffins.  Really friendly owners.
Creswick Woollen Mills - for a cute shop & café that also gives you the opportunity to feed alpacas.
Farmer's Arms - this was voted Victoria's best pub! Farmer's Arms serves fantastic food and amazing cocktails.  Additionally, the pub has the perfect homely pub feel, full of comfy sofas to relax on with a beer.
Le Peche Gourmand - for amazing pastries.  It'll take you a while to choose what you want, as the whole display looks so good.  Really delicious croissants and danishes.
4. Ballarat - 1hr 30mins from Melbourne
Ballarat is a big focal point amongst the country towns near Melbourne, being much larger than the surrounding towns.  You'll be able to find most of the popular shops, such as Kmart, Target, Bunnings, Priceline, Cotton On etc.  Hence the perfect places if you're in need of any essentials. Additionally, there are an array of fab food joints to enjoy, plus bars and clubs.  The botanical gardens are a great place to wander around or you can even hop on a historical tram! Furthermore, Sovereign Hill is also a stop worth visiting to step back in time and be immersed in Ballarat's Gold Rush era. Likewise, if going back in time is your thing, Kryal Castle would be a great port of call. Kryal Castle is a replica of a medieval castle, complete with torture dudgeon, maze and knights jousting!  Also, don't forget the beautiful Lake Wendouree.
Where to eat
Noodle Box - for quick, inexpensive noodle dishes.  Nothing fancy but full of flavour.  We've pretty much gone through the whole menu as we can't help but keep coming back!
The Forge Pizzeria - for the number one pizza place in town.  Any local will tell you this is their favourite so go check out what all the fuss is about.
Pancho – so many delicious options on the menu, such as Mexican Fish Tacos and ceviche.  Plus, the cocktails are fab!  This Latin delight is never quiet.
Meigas – if you've got a craving for Spanish food, this is the place to go, serving up tasty tapas dishes.
Start Cafe - The Mushroom Croque and vegan matcha waffles are delicious!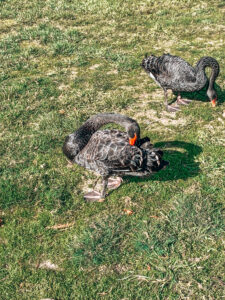 5. Castlemaine - 1hr 30mins from Melbourne
A town which is full of rich gold rush history, and also known for its growing arts culture.  This is a must for vintage lovers, with copious amounts of antique stores, op shops and retro finds.  In addition, there are also many craft shops and funky pubs to keep you happy. The Mill Plaza, which is just opposite the small Botanical Gardens, is a great place to head to, with the gardens being perfect for stretching your legs after the drive! Castlemaine is the country town all the Melbourne hipsters flock to, so we loved that it was very vegan-friendly!
Where to eat
Theatre Royal Bistro Lola – This 1854 built theatre has been operating as a cinema since the 1930s and the old theatre stage has been repurposed into a great live music venue.  Aside from this, the standalone café and restaurant at the front of the theatre serves delicious foods, with a lot of local produce.
Johnny Baker - Housed in a former drive-in bottle shop behind a pub, this now drive-through pastry shop that has caught the love of everyone in Castlemaine. The almond croissant is to die for, amongst other delectables such as rosewater meringues and salted caramel eclairs.  For those with a more savoury tooth, the pies are excellent too! Come and see for yourself what all the fuss is about!
Super Hero - A husband and wife, who met in Hanoi, opened a lovely Vietnamese eatery in Castlemaine and it has become very popular! Many of the dishes are delicious but it is their scrumptious Banh Mi's that has everyone talking! Vegan options are available too.
Or if you're more in a drinking mood...
Boomtown Winemakers Co-op – A community-driven winery and cellar door.  Boomtown is a place for young and aspiring winemakers to make a start on their own wines.   During the warmer months, the space becomes a bar on Friday evenings, serving toasties and homemade pickles with their wine. Head here for a wine tasting of their lovely selection.
Shed Shaker Brewing Company – The town's one and only brewery! Castlemaine once had 14 breweries and this is now the only one left standing.  For good reason, Shed Shaker is fab!  Come here after taking a stroll around The Mill for some refreshing drinks and delicious food.  The Mango Smash cider is amazing (and vegan!).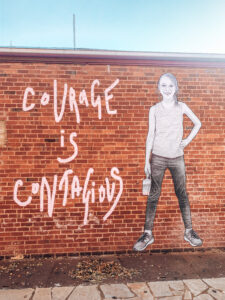 We hope you enjoyed finding out about these fab Victorian country towns near Melbourne. We hope the restrictions ease soon so we can all venture out and discover this beautiful area of Australia more!
If you're looking for more beach towns to enjoy, we've completed the Great Ocean Road three times now and lived on it for almost 6 months! Our favourite towns for places to eat and shops to wander around are Geelong, Apollo Bay, Lorne, Port Campbell and Port Fairy! These beach towns are a little further afield than the country towns near Melbourne we've mentioned above. You'll need a long weekend to really appreciate the many stops along the infamous Great Ocean Road!