Broome is a beautiful town on the Northern tip of Western Australia. It is best known for its pearling industry, which is evident in the many esplanades filled with beautiful jewellery shops to enjoy. Additionally, a lesser-known experience is the 'Staircase to the Moon'! This is a monthly natural phenomenon, which occurs March to November. Thus a weekend stay here is perfect, particularly if it is timed with this unique experience. As well as. this, read on to discover more treasures and things to do around Broome.
Cable Beach
The sunset at Cable Beach is known for being one of the best sunsets in the world and with good reason! It's a magical location and it should be noted that if you have a 4x4, you can even drive right out onto the beach! However, no need to worry for those who don't. Alternatively, you can take a seat on the beach or do like us and set up a travel hammock overlooking the views! Furthermore, if you fancy a cocktail with your sunset, there are also numerous bars with perfect vantage points.
Along with the sunsets, something else Cable Beach is famous for is camels. Did you know that Australia has the largest population of wild camels in the world?! Although we chose not to do this ourselves, there is the option to go for a camel ride on the beach.
Also, make sure you visit in the day to see that stunningly blue sea!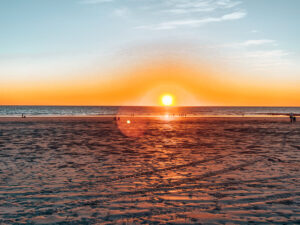 Staircase to the Moon
Once a month (between April and October), during the full moon, there is a special natural phenomenon that occurs in Broome. In this case, the full moon reflects on the mudflats, causing what looks to be a staircase to the moon. Join the crowd with a drink and a bite to eat from the night market. This has to be seen to be believed! Check here for the monthly dates and times.
Town Beach
Town Beach/Roebuck Bay is a beautiful beach area.  Particularly special due to being able to witness the contrast of colours in the landscape in the Kimberley. Hence here you can see the red rock meet with yellow sands.  In addition to the milky blue sea splashing over the lush green mangroves.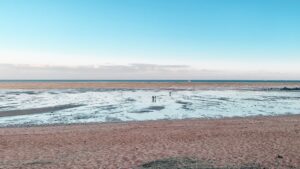 Chinatown
This has got to be one of the least Chinatown looking Chinatown's we have ever seen.  Nonetheless, it is a cool part of Broome! With this in mind, don't expect red archways, dragons and numerous Chinese eateries. In contrast, you'll find funky cafes, art galleries and boutique shops.
Sun Picture House
Broome is home to the oldest operating outdoor cinema in the world! They play new screenings and old classics every night; check here for the schedule. However, even if you don't fancy a movie, we would recommend to still take a look around. It should be noted that the venue is open during the day, to have a little nosey at the quirky, vintage decor. Additionally, there's a great deal you can get on the door, which includes pizza and garlic bread with your ticket.
Markets
There's a couple of markets worth checking out in Broome. Firstly, there is the Night Markets.  These markets are held by Town Beach every Thursday night and also during the Staircase to the Moon. Head here to listen to some local live music and dine on one of the many food vendors. Undoubtedly, food is more the focus here but there are also items such as jewellery, soaps, clothing etc.
For more non-food options, check out Broome Courthouse Markets. This is held every Saturday all year round and Sunday's between April and October. With around 115 different stalls, this is a much larger market.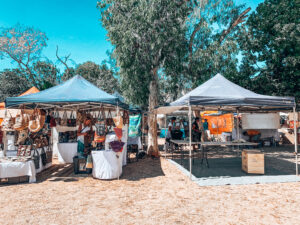 Matso's
Matso's drinks can be found all over Australia but Broome is home to THE Matso's Broome Brewery. They are most famous for their mango beer but there are many different flavours to try.  This includes chilli beer if you dare! In addition, their ginger beer is also very popular but if you're not a beer fan, try their delicious hard lemonade instead!
Dinosaur Footprints
Yes, you read that right. Real dinosaur footprints can be found in Broome! It should be noted that the fossilised footprints can only be seen during low tide, as they are 30 metres out to sea. The tracks are an astonishing 130 million years old! However, if you don't manage to catch it during low tide, there are also some plaster casts of the original prints embedded into the rocks at the top of the cliff. Also, the views from Gantheaume Point are worth the visit alone!
Japanese Cemetery
This cemetery dates back to Broome's early pearling days and is dedicated to the Japanese lives lost during the boom. Sadly, more than 700 graves can be found here. Explore the rows of Japanese inscribed memorials and stones, some of which are made from local sandstone.
Willie Creek Pearl Farm
Pearls are big business in Broome and Willie Creek Pearl Farm has one of the largest ranges of pearl jewellery in Australia! Here you can take a tour of the farm to get an insight into the process of modern cultured pearl farming.  In addition, just simply bask in the beauty of Willie Creek itself.
Day Trips
There are many day trips and tours that can be taken from Broome so we have listed a few of the options below:
Horizontal Falls - this is for the people who really want to splash out. It is an expensive trip.  However, David Attenborough did describe Horizontal Falls as "one of the greatest wonders of the natural world".  Therefore, it may just be worth it!
James Price Point - just 50km North of Broome is James Price Point; the locals getaway destination. Here you can find a true sense of the Kimberley scenery with the red cliffs contrasting with the white sands and the turquoise Indian Ocean.
Cape Leveque - for those with a 4WD. Hit the red dirt road to venture to Cape Leveque, on the tip of the Dampier Peninsula. You'll be surrounded by more of those beautiful Kimberley views but Cape Leveque also has famous Aboriginal heritage, which continues to thrive. If you don't have a 4WD, you can also take a tour from Broome.
Boat Tours - there are many boat tours on offer in Broome but one of the most popular are the whale watching tours. It is also possible to get close and personal with Snubfin dolphins!
Camping
The camps in Broome are on the expensive side.  However, if you're going during a popular period, you may be able to find overflow camps at a much better price. We stayed in one just around the corner from Mango's and paid $10pppn, with toilets and showers included.