Great Ocean Road Recommended Stops
The infamous Great Ocean Road; something we're sure you've been looking forward to since the idea of Australia popped into your head!  For good reason too, as the Great Ocean Road really is stunning.  You'll find an array of beautiful beaches, rock formations, great seaside towns and even a National Park along the way! With this in mind, you can imagine how this road really is special. In fact, you really feel it once you get to the other side and wonder why you no longer feel like you're driving along in a movie scene! To make things easier for you, we have made a summary of all the Great Ocean Road recommended stops along the way. We've also included some of our Great Ocean Road Hidden Secrets! As we've been fortunate enough to live on and explore the Great Ocean Road throughout the pandemic!
It should be noted that the following is in order from Warrnambool to Torquay, which will be the route if you are coming from South Australia.  However, if you are travelling from Melbourne, please read upwards from the bottom.
Warrnambool
Warrnambool marks the start (or end) of the Great Ocean Road.   This is the only city you'll see along the way so there are quite a few bits to see & do here. With this in mind, we have listed our highlights below.  Keep in mind that if you're starting the Great Ocean Road journey here, you should stock up on any food or petrol. This is due to there being the best prices and there are also much more options (we found Apco to be the cheapest).
Must-sees:
Wildlife
Whale Watching – Between June – September, whales head to the warmer waters of Southern Australia and can be spotted from Warrnambool.  The best place to spot them is from the viewing platform at Logans Beach.
Tower Hill Reserve – slightly outside of Warrnambool, this is a fabulous place to see some of Australia's best wildlife.  Definitely perfect for picnics. Expect to see kangaroos, koalas and emus out and about!
Culture
Flagstaff Hill Maritime Village and Museum – a reconstructed outdoor village, which gives you a taste of life in Australia for the early settlers,  complete with cobbled streets.  There are more than 40 buildings, including a blacksmith's, dressmaker's, fire station and a school. Delve into some scones in the cute tea rooms!
Shopping
Fletcher Jones Market & Gardens – Fletcher Jones was an iconic Australian clothing brand and the company was known for its progressive approach to employer/employee relations.  The factory was a major employer in Warrnambool and these gardens were built by David Fletcher Jones as part of a program to look after the welfare of his workers.  The gardens are still here to be enjoyed by the public and the factory has now been transformed into a huge vintage market, where you can find a heap of unique items!
Food & Drink
Allansford Cheese World – ran by the Warrnambool Cheese and Butter Factory, enjoy free tastings and browse the wide selection of cheese and wines.  Head to the café to try one of their famous milkshakes and browse the gift shop for some really cool finds.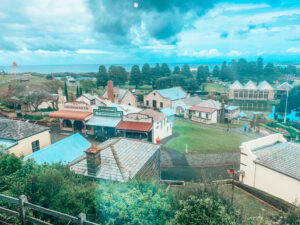 Great Ocean Road Hidden Secrets #1
Childers Cove/Murnane Bay
This is one of the lesser-known spots of the Great Ocean Road. However, this most definitely isn't due to it not being worth the stop! Get your first taste of the beautiful rugged coastline and pristine beaches with a relaxing stop here. Alternatively, if you're coming from Melbourne, take the opportunity to get your last dose of the beaches before you arrive into Warrnambool!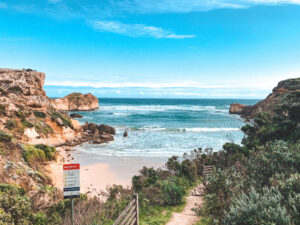 Bay of Islands
There are definitely lots of different rock formations to see along the Great Ocean Road Recommended Stops. With this in mind, we have ensured that we have included all of the most popular ones so you don't miss out. Firstly, you'll encounter the Bay of Islands, which consists of limestone stacks, similar to but smaller than the 12 apostles.   One of the perks of this bay is that it is usually quiet, so you'll get to enjoy the scenery mostly to yourself.
The Grotto
This is undoubtedly one of our favourite spots along the Great Ocean Road.  The Grotto is a sinkhole, which can be viewed from above or at eye level. We would highly recommend heading down and taking in the view through the natural archway.  You can tell this spot is particularly stunning from all the people trying to get the perfect Instagram shot here!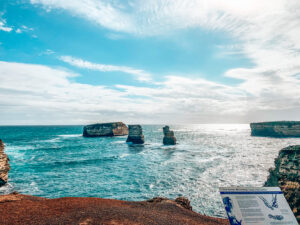 London Bridge
Yes, there's a London Bridge in Australia! Although, this one is no longer a bridge.  However, it does come with quite an interesting story.  In fact, the natural bridge unexpectedly collapsed in 1990 and actually left two people stranded on the island that had newly formed as a result! Following this, they had to be rescued by helicopter. Luckily, nobody was hurt! Subsequently, this landmark is now known as London Bridge.
The Arch
Naturally sculpted by extreme winds and tides and standing at 8m high is The Arch.  There's a short walk to the viewing platform, which provides great views towards the Apostles coastline.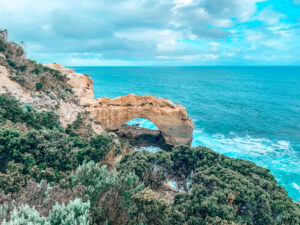 Port Campbell
Port Campbell is one of the main towns along the Great Ocean Road.  Here you will find a few local shops and places to get a bite to eat.  Aside from this, Port Campbell is the home of a beautiful safe beach and is an excellent base to stay to be close to the 12 Apostles. 
If you don't find time to get to Timboon, the ice cream parlour in Port Campbell stocks Timboon's Fine Ice Cream. There aren't as many flavour options but it's better than missing out! 
Loch Ard Gorge
This is a beautiful, picturesque gorge named after one of the most famous shipwrecks on the Victorian Coast.  In fact, the two remaining rock pillars of the gorge have actually been named after the only 2 survivors of the shipwreck, Tom and Eva.  This is definitely another favourite of ours. Without a doubt, a lot of time can be spent here, enjoying the views, walks and beaches.  We particularly enjoyed the views of the Thunder Cave and Razorback.
Twelve Apostles
Along with Uluru, Sydney Opera House and the Great Barrier Reef, this is one of Australia's most iconic landmarks.  As a result, this is by far the busiest stop along the Great Ocean Road recommended stops, so prepare for crowds.  For the best views and fewer people, head here for sunrise to catch the stunning scenes before the coach loads of people turn up! Sunset viewings are also a more magical experience but of course, any time of day is great to catch a glimpse of the infamous 12 Apostles.
Gibson Steps
These 86 steps were hand-carved into the limestone cliff, leading down to the lovely beach where you will feel dwarfed by the towering stacks and cliff-line.  There is a viewing platform at the top if you haven't got the energy for the steps.  This beach is sometimes closed, due to weather conditions so it's worth checking this before you go.
Great Ocean Road Hidden Secrets #3
Secret Apostles Lookout
As mentioned earlier, the 12 Apostles can get very crowded.  It's still worth heading to the official lookout for a closer look but if you'd also like to enjoy the views more privately, this is a great place to head.  Although this location is marked out on Google, making it not seem so much of a secret, it's definitely much lesser-known and quieter. We managed to visit with absolutely nobody else around!
Google says it is permanently closed but check it out on your way passed as it's very close to the road and it may be re-opened post-pandemic.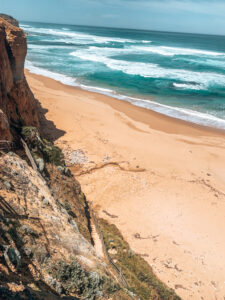 Great Otway National Park
The Great Ocean Road recommended stops isn't all about the beaches; there's also the beautiful Otways rainforest!  This part of the drive is awesome, as you wind through all the towering trees.
Great Ocean Road Hidden Secrets #4
Turtons Track
If you're heading in to visit the falls mentioned below, we'd highly recommend heading north out of the park and taking Turtons Track (C159) toward Apollo Bay. Alternatively, from Apollo Bay head up C119 towards Skenes Creek and it'll be signposted on the left.
Another one of our Great Ocean Road Hidden Spots. This winding road is fully encompassed by gorgeous fern glades, giant Eucalyptus trees and Beech trees too! Although if you've filled up on lots of food and. drink in Apollo Bay you may need to let your stomach settle first!
There are a few places to stop and take in the beauty within Cape Otway National Park:
Cape Otway Lighthouse
This historic lighthouse is actually the oldest surviving lighthouse on the Australian mainland! Enjoy the spectacular views and learn about some of the history surrounding this area.  This was the first glimpse of Australia for thousands of people, including convicts and early settlers.
Although usually cheaper purchased online, during Stage Three Lockdown this is unavailable and a discounted walk-up price is available instead.
Tree Top Walk/Otway Fly
Something for people looking to get a bit closer to nature or with a thirst for heights! The treetop walk allows you to walk through the dense canopy with an amazing vantage point for the surrounding beauty.  For those wanting more adrenaline, Otway Fly gives you the opportunity to zip-line through the rainforest!
The treetop walk is priced at $20-25 (Nov 2020), whilst the zip-line adventure is $114-120 with a family package available too.
Beauchamp Falls
Walkthrough stunning mountain ash forests to emerge at the lovely Beauchamp Falls.  This waterfall majestically crashes over a ledge, into the large pool below and is beautiful.
Hopetoun Falls
There's a viewing point from the car park for this gorgeous waterfall but we would highly recommend the short walk to the base of the falls.  Soak in the wonderful views and sounds of the waterfall roaring down.
Triplet Falls
This area is beautiful.  Enjoy a walk through the ancient forest and take in the views of this lovely waterfall. Great place to enjoy a picnic.
Great Ocean Road Hidden Secrets #5
Melba Gully
Known as the Jewel of the Otways, something that attracts people to this area is the glow worms! The glow worms can be found after dusk at various points along the Madsens Track Nature Walk.  Tread lightly, keep your voices low and point your torches downwards, as the glow worms light will go out if they're disturbed. Moreover, though, have fun!
Californian Redwoods
First planted as a logging experiment in the 1930s, there are now Californian Redwood trees to gaze at in Australia.  When fully grown, these are the tallest trees in the world! The ones here are now standing at an impressive height of around 60 metres.
Apollo Bay
Apollo Bay is, personally, our favourite town along the Great Ocean Road.  There's a great selection of shops to stock up on some souvenirs, a lovely bakery and some other fantastic food options.  The Apollo Bay Bakery is home to a famous scallop pie, so be sure to give that a go along with their multiple delicious options.  Chopstix is a great Thai restaurant, complete with funky décor.
Great Ocean Road Hidden Secrets #6
Marriner's Lookout
Venture up a small winding road to the Marriner's Lookout to enjoy breathtaking views of Apollo Bays curving coastline. The perfect spot to enjoy a hot drink or picnic whilst watching the world go by below. Although we found ourselves amongst 4 other influencers all trying to get the best shot from this stunning location!
Kennett River Koala Walk
Home to one of Victoria's biggest koala colonies, Kennett River is a must for anyone who wants to spot a koala (or 10!) in the wild.  Despite the name, it's best to experience Koala Walk by car.  Just head down the small road to the left,  behind the Holiday Park and be sure to take it slow.  The road will keep going and we're not sure where it leads, so once you've had enough of your furry friends, just turn around and head back to the main road.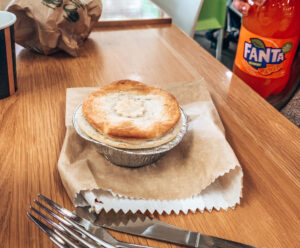 Lorne
Lorne is probably the most popular town destination along the Great Ocean Road. With its close proximity to Melbourne, it is a hotspot for many visitors.  Take some time to stroll along the main shopping strips to see some of Lorne's lovely boutique gift shops, galleries, eateries and cellars.  The beach is gorgeous here too but beware of the many seagulls if you plan to eat your fish & chips there!
Head to Teddys Lookout for stunning views over the Great Ocean Road and surrounding mountain ranges.  Additionally, Erskine Falls is the most popular waterfall to visit in Lorne and perhaps, along the Great Ocean Road.  However, Lorne is home to an abundance of waterfalls so take your pick with Sheoak Falls, Cora Lynn Cascades, Won Wondah Falls, Henderson Falls, Phantom Falls and Kalimna Falls.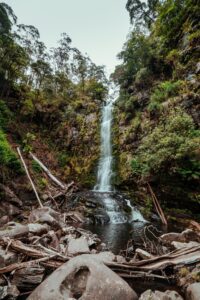 Great Ocean Road Sign
Have you even done the Great Ocean Road if you haven't got a photo with the sign? Located between Lorne and Torquay, this is a must stop-off to capture some of your best memories!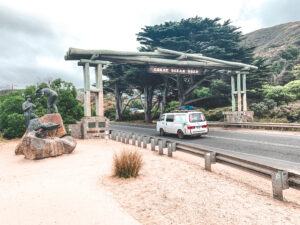 Bells Beach
Known as one of the best surf beaches in Australia! There isn't much actual beach at Bells Beach, it's mostly a cliff-face with fantastic views and a great spot to watch surfers from.  If you're passing through during Easter, you can catch the worlds best surfers at the famous Rip Curl Pro Surfing Competition!
Torquay
Torquay has an interesting history as it is the home of the iconic brand Rip Curl. As you can imagine, there is now a huge surfing culture here.  Head to Torquay Surf Beach and watch all the surfers in action or even get a surfing lesson yourself!