There's definitely plenty to see and do in Quito. Thus, here are our 10 things to do in Quito to help guide you through those narrow streets.  Quito is a city full of history, with original 15th-century buildings paired with imperfect cobbled streets.  This all coincides with the new modern side of the city, resulting in an odd but superb melting pot of time and stories.  In fact, Quito is actually the first-ever city, along with Krakow in Poland to be recognised as a UNESCO World Heritage Site!  Delve into our Quito travel bog and let us know your highlights! 
Quito Must-See Attractions
Mitad del Mundo / Equator Line
The biggest must-see attraction in the whole of Ecuador, situated roughly 40 minutes from the centre of Quito, is Mitad del Mundo.  Also known as the Middle of the World.  Due to this being where the Equator line is placed, separating the Northern and Southern Hemispheres at 0 Latitude.  The sight costs around $5 to enter and this includes access to the little tourist town they have built around the main attraction.   The town, houses a few shops, restaurants, a planetarium, an ancestral village and museums. 
Top Tip! It should be noted that one of the shops also stamps your passport with a stamp for the Middle of the World!  
What to Expect
The main attraction consists of a monument that you can climb up.  This then gives you a view of the Equator line and the dividing hemispheres below.  On the ground level, there is a thick yellow line marking The Equator. Therefore, you can get photos of all the creative ways you can think to separate yourself between the hemispheres.  There are also a few pins situated on tables with an egg next to them. This is because it's believed that due to the gravitational pull being level, it is possible to balance an egg on a small pin… see if you can do it! Definitely a highlight for us on our top 10 things to do in Quito.  
La Floresta
La Floresta is the funky, bohemian part of the city. Thus it's lined with hipster cafes and beautiful street art.  Ocho y Medio, an indie movie theatre and café is one of the most popular places to head for a bite to eat and for good reason.  The theatre has a lovely, homely feel and scrumptious baked goods to add.  La Cleta is also a cool café to try.  In fact, it's worth seeing just to admire the décor! Due to most of the tables and chairs being made out of old bicycles.  There are lots of great street art pieces here to admire too.  However, you need to know where to go so we would suggest the free walking tour.  This way, a local artist will show you the ropes.  
Plaza Foch
Plaza Foch is the place to go to experience the best of Quito's nightlife, and a top attraction on our Top 10 things to do in Quito.  Full of locals and travellers alike, there are plenty of bars and clubs to head to if you're fancying a party.  Additionally, there is also a funny photo op here with the 'Foch Yeah' sign.  
Carolina Park
Carolina Park is often referred to as Quito's version of Central Park by the locals, making it one of Quito's must-see attractions!  It's definitely a great park to stroll through and take in the city's culture.  Here you will most likely see some of the locals playing Ecuavoli, which is a local game similar to volleyball with 3 people per team.  There's also something very unique to this park that even Central Park can't claim to have. Namely, a genuine, full-sized aeroplane just casually placed in the middle of it!  In addition, the park also holds an exotic botanical garden, a reptile house, a planetarium and a small museum.   
Take in the Views on the Cable Car
The cable car in Quito, known as the TelerifiQo, is one of the most impressive cable cars in South America.  With Quito being one of the highest cities in the world, you can imagine how far up the TelerifiQo takes you!  Especially when you consider that the journey one way takes an impressive 18 minutes.  Yup, that's right.  This cable car impressively sends you right up into the Andes.  In addition, the station is placed on the slope of Pichincha Volcano!  This, of course, leaves you with unparalleled views of the city and the surroundings.  Without a doubt, this is something that should definitely be on your list of things to do in Quito.  Obviously, as long as you're not too scared of heights!   
For those who want to add some more adventure to this...
There is also the option to continue hiking up the volcano on the other side, where you can even ride a bike down the slope back to Quito!  Additionally, there is also a swing that takes you out above the clouds!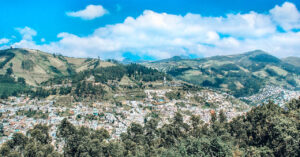 Virgen de el Panecillo
For those who want to enjoy a fantastic view of Quito from above but can't stand the thought of heading so far on the TelerifiQo, Virgen de la Panecillo is a great compromise.  The Virgen stands upon the hill of El Panecillo, guarding the streets of the Old Town. In fact, Panecillo translates to 'little bread roll', so as you can imagine, it's much more manageable.  In addition, you can also ascend the statue for even better views.   
Admission is $8.50.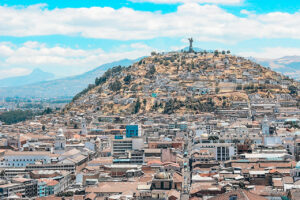 Wander Around the Old Town
The old town is an area that is best experienced by just wandering around all the narrow, cobbled streets and soaking in the history around you. Luckily, everything is within walking distance.  However, there are countless churches and streets to take a look at.  Therefore, here are the main points of interest to give you a helping hand… 
Plaza Grande – Quito's main square and a great place to start.  Here you can find the Presidential Palace and Metropolitan Cathedral. 
La Compania de Jesus – a 17th-century church, known for its gold-covered interior.   
Plaza San Francisco – this plaza contains Quito's oldest church, many street vendors, a chapel and cafes.  On a clear day, the backdrop of the Andes is stunning.   
San Agustin – Historical convent, where Ecuador's Independence Act was signed.  Hour-long tours of the halls and interior are available for $2.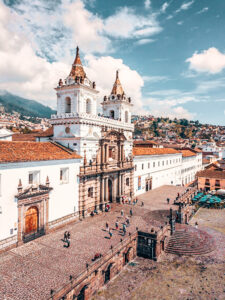 Basilica del Voto Nacional
If there was only one church you were going to see in Quito, this should be it.  In fact, Basilica del Voto Nacional is the largest neo-gothic church in the whole of the Americas!  With that in mind, it is obviously very impressive.  In this case, the outside has some very unique features.  Namely, instead of the usual gargoyles, there is native Galapagos wildlife carved into the building.  See if you can spot the armadillos, Ecuadorian iguanas and condors! 
Explore the Inside
The church is impressive enough from the outside but for just $2, you can also climb up the tower for amazing views of the old town from above.  The climb is an interesting one, with uneven steps, bridges and ladders involved but most definitely worth the experience and views.  Something else unique about this church is that you can enjoy the views with a beer in hand.  It's not very often beer and church are said in the same sentence but there is a café inside serving just that!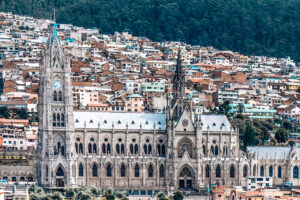 Browse the Museums
There are so many museums worth heading to in Quito, such as Museum of the City or Intinan Museum.  However, if there was just one that we would recommend in our Quito Travel Blog; we would suggest checking out Capilla del Hombre & Museo Guayasamin.  We must say, we had never heard of Ecuador's beloved artist before going to Ecuador but we soon became fans of his work. Oswalda Guayasamin focused his work on the suffering of indigenous people from all around the world and he produced some beautiful pieces of art.  The admission costs $8 and includes a guided tour. 
La Ronda
La Ronda is a famous pedestrian historic street in Quito.  This beautiful cobbled street, lined with colourful colonial buildings was once a gathering point for writers, poets, singers, sculptors and political activists.  However, it then later became a hub for drugs and prostitutes.  Thankfully, in the late 20th century, the street was restored and is now lined with lovely little cafes, ice cream parlours and artisan shops.  Definitely a great place to stop by when visiting Quito's must-see attractions. Enjoy a bite to eat and watch the world go by.  Check out the shops here for some perfect souvenirs, including some of Ecuador's famed chocolate.  
Mercardo Artesanal La Mariscal
This was one of our favourite markets in South America and is definitely a top spot for souvenir buying in Ecuador.  Especially a must if you don't make it out to Otavalo Market, this market is a Quito Must-see Attraction.  There's everything you can think of here from clothes, bags and Panama hats to Ecuadorian chocolate, homemade ice cream and bright paintings. It's hard to leave empty-handed and don't be afraid to haggle; the vendors are expecting it. 
Bonus:
Head Out on a Day or Overnight Trip!
Quito is a hub for some amazing day or overnight trips nearby.  You have the option to check out the beauty of a cloud forest, see a lake formed in the crater of a volcano or visit one of the largest indigenous markets in Latin America! See our guide on the best trips to take from Quito here.   
Additionally, Quito is also where you take a flight to the Galápagos Islands.  See our guide on how to do the Galapagos on a budget.