Rio Carnival is an experience that no words can justly describe, we have provided a complete guide to Rio Carnival to help you navigate what to wear, where to go and why the guys have blond hair?!
Having spent the week jumping between all the main tourist attractions around Rio and falling into the insane Rio Carnival Street Parties and parade. We learned from a Brazilian friend that some of the main street parties have got so popular that the Rio Carnival festivities spread over weeks now! Not just the official dedicated week on which the Sambodrome parades happen on.
Something that can truly only be understood by partaking… so with that said, what are you waiting for?! Let's get stuck in and help you navigate the madness that is Rio Carnival.
Complete Guide to Rio Carnival
Rio Carnival Bloco's
Bloco's are the street parties that happen during carnival. There are countless amounts of them all over Rio throughout the day and night. Whatever street parties you are used to, these will be at least 10x bigger. The best way to find out where the top ones are and when is to befriend a Brazilian, who knows the ins and outs but if you're not lucky enough to do that, searching 'Bloco' in the App Store or Google Play store will bring up some apps that'll give you timetables or searching it on Facebook will show upcoming events, which you'll be able to judge by the amount of people interested or going. However, don't get too hung up on finding specific bloco's, they are all good and are all free!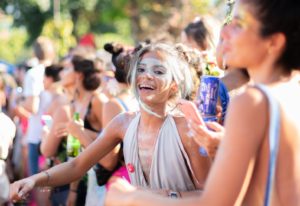 Rio Carnival Sambadrome
The Sambadrome is the stadium that the parade takes place in, A complete guide to Rio Carnival would be amiss without it. This is a must as part of your carnival experience as it really shows the effort that goes into the preparation of the carnival and the true passion behind it. Tickets have to be bought for the parade and people can be put off going, as, with an initial search, it seems that all tickets are super expensive. It is true that some tickets are very expensive but it can be done for much less if you:
a) Book in advance.
b) Go for an Access Group, rather than a Special.
Certain days are dedicated to certain tiers of the samba school performance. Of course, it seems natural to want to see the top tier (Special) but you will not be disappointed by the Access Group if you want to save some money. Everyone in this tier is competing to get promoted into the Special Group for the following year's carnival so they go all out to show off their best costumes and floats.
Top Tip!
If you check Sambadrome's website, it will seem that you can only bring in a small amount of food and drink. However, if you don't want to be jealous of all the Brazilian's around you who are clearly aware that this is not actually the case, bring in all the food and drink you like! Bear in mind, you will be here until the early hours. With this in mind, we also recommend bringing a pillow of some sort, as many of the seats are just concrete blocks (we took Trekology's inflatable pillow, which did the trick!). We were seated in Sector 5, which was great as it is situated in the middle of the parade, therefore we would recommend any sector around there.
Blonde Hair, don't care!
It turns out that it is a carnival tradition for guys to bleach their hair blonde! So if you don't mind having blonde hair for a while, go all out to fit in with the crowd!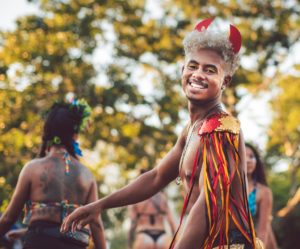 The Subway
Even though all the bloco's are happening on the streets of Rio, it doesn't mean the party stops once you go underground. Uber is super cheap in Brazil but public transport is still even cheaper and gives you double the experience. You will find the locals chanting their favourite songs, banging the roof of the train and a few more selling beers to keep the party going. It is lovely to see everyone so happy. We absolutely loved this element of our Rio Carnival experience, so without doubt it is a must for our complete guide to Rio Carnival.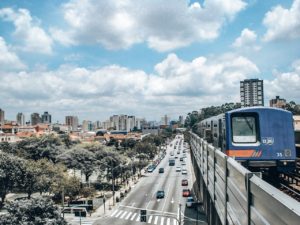 Rio Carnival Costumes - What to Wear at Rio Carnival
It is easy to buy some great Rio Carnival costume props in Rio de Janeiro at Uruguaiana market. Here, you'll find rows of shops selling anything from feather headdresses to hula skirts.
Get as dressed up as you like, anything goes during carnival! Whilst the streets of Rio are full of people dressed in full carnival costumes, you'll find many people dressed much more casually. As the Rio Carnival parade in the Sambadromo goes on for over six hours, we'd recommend wearing light clothes you feel comfortable in.
For a moment, it will feel like you're at a Pride festival, as there are so many guys dressed in traditionally girls clothing but this is just the carnival norm so lads, get your skirts and stockings out!
Best Shoes for Rio Carnival
Just a warning, don't wear any shoes you cherish because they will most likely get ruined.
How to Stay Safe at Rio Carnival
Although a lot of blogs mention that the carnival is too dangerous to bring out a phone or camera and so advise to just leave them all back at the hostel/hotel. Personally, we wanted evidence that we were there so took the risk. We successfully returned each day with all of our belongings so it's definitely easily done.
Our complete guide to Rio Carnival wouldn't be complete without mentioning the safety aspect within Rio de Janeiro. Although we had an amazing time and had no problems, the key factor which help us stay safe in Rio was not getting too intoxicated to look after our own belongings.
The best advice is to wear a money belt, avoid the beach area late at night and if you think you're getting pretty drunk, put your phone away or give it to a trusted (sober) friend. Please just enjoy the festivities!