Sometimes buying presents for wanderlust travellers can be so hard! Especially if you know they are about to go backpacking, where they have very minimal space to take presents with them. Here are some great travel gift ideas for your friends and family.
Personalised Luggage Tags
As travellers use luggage a lot, it's a great idea to make theirs standout with a personalised luggage tag.  Practical and personal!
Know any wine lovers who also love travelling? What better gift than something that allows them to enjoy wine everywhere they go? Cheers to that!
So many amazing memories are made whilst travelling.  Although the big moments are held close to the heart, sometimes the smaller but still as special times can be forgotten.  Hence a travel journal is a perfect way to ensure that all the incredible times are remembered forever! Give a travel lover a gift that will last them a lifetime!
Check out a lovely travel themed option here.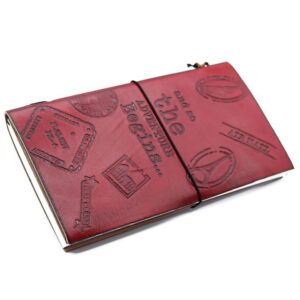 Dobble is a speedy observation game where players race to match the identical symbols between cards.  This is great for an entertainment source on those long journeys between places.  It is also a great card game to play alongside the pool etc.  It comes in a lovely small tin, so perfect for taking around!
Another gift that's great for those long journeys!    This book is full of landmarks from across the globe to colour in and also gives some interesting facts about each one.    Adult colouring books have been said to be helpful to people with anxiety so this could be a lovely gift to help the big adventure less worrying.
We highly recommend this travel pillow as it is not your average travel pillow.  Rather than the bulky 'U' shape, these look more like a scarf with a support beam in one side.  The beam has been scientifically proven to support your neck whilst you sleep and we can vouch for them being fab!
What's better than chilling on the beach to some great tunes?  The best speakers to take travelling are waterproof or resistant ones and we personally recommend the Comiso speaker.  The shape allows for 360 degree sound and it even comes with a carabiner, making it super easy to attach to luggage.
We can't think of a more fun way to check off all the countries that have been visited than getting to scratch them off a map!  This should be a staple item in any travel lovers household.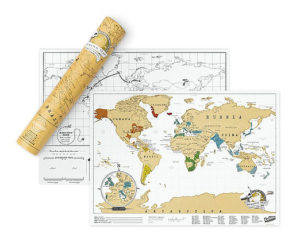 This is particularly great for anyone travelling for a festival or road trip lovers, such as this amazing road trip around Australia! Although both are amazing, sometimes it's not easy to always feel fresh! This is where these bad boys come in. Importantly, these paper pocket soaps are super-compact, making them an easy accessory to pack. You simply just add water to the wafer-thin soap sheets and watch them instantly transform into a sudsy lather. Also, they smell amazing!
Check out the gorgeous options of mango, coconut, rose and cherry here.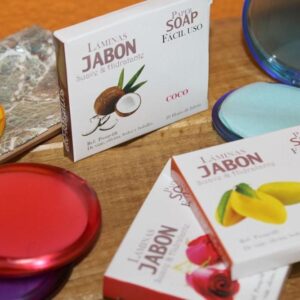 It's always nice to have something to take around the world and also show your love for travel at home too.  Travel themed jewellery is a great way to do this. notonthehighstreet.co.uk has some lovely pieces.
Roll-On Essential Oil Blends
The perfect gift for those who love to travel and are fans of essential oils.  Even those who aren't aware of the benefits would be thanking you later! Travelling is, of course, incredible.  However, it can be hard on the body with all the different timezones and transiting.  Let's not get into those overnight buses! These are undoubtedly great for helping travellers to get to sleep, waking up or just to simply relax.
CheeseOnBread has a variety of options available to choose from.