Quito is the capital of Ecuador and is full of fab things to do within the city.  Additionally, it is also a great hub to take day and overnight trips from and explore more of this beautiful country.  Ecuador has amazing experiences and views to offer, luckily all within a short distance of Quito.  Hence we took a few day trips from Quito and we would now like to share our favourite ones with you!
Places To Visit Near Quito
Otavalo Market – Day Trips From Quito: 2 Hrs
Otavalo Market is one of the largest markets in Latin America! Which makes it top of our list for day trips from Quito! If you're needing any souvenirs, you'll definitely find them here.  There are an array of colourful stalls, full of artisan items here ready to cater to you.  The market is open every day but Saturday is by far the most popular day to go.  Saturday will also provide you with the most selection of goods, including items such as Panama hats and hand-woven jewellery and textiles. 
Additionally, located just 3km from Otavalo is the beautiful Peguche Waterfall.  Thus it's worth visiting both if you head out on a day trip from Quito. 
Getting There Dutchie around the World has kindly put together a detailed blog about how to get to and from Otovalo Market without a tour!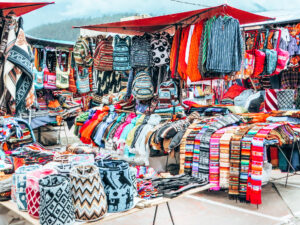 Cotopaxi Day Trip – 2 hours from Quito.
Cotopaxi National Park is home to the famous Cotopaxi Volcano and additional great places to visit near Quito.  In fact, Cotopaxi Volcano is one of the highest, most active volcanoes in the world and the second-highest summit in Ecuador!  For the avid hikers, it is possible to hike all the way to the top.  We didn't opt to do this but we have heard that it is a very difficult hike.  Therefore, if it something you're thinking of doing, please research and prepare for it first.    
For the more relaxed approach, there is the option to make your Cotopaxi Day Trip into a stay and enjoy the awesome view from your room instead. Of course, you can also opt to do both! Once you hear about the accommodation option, we don't think you will want to miss out.  
A Unique Stay by the Cotopaxi Volcano
We know that New Zealand is famous for the Hobbits but who's to say some of them didn't spread their wings and settle in Ecuador?  Well, Secret Garden Cotopaxi seems to have found their settlement. Following this, obviously, after they all returned to Hobbiton, they now let you stay in their amazing Hobbit houses, overlooking the volcano! 
Secret Garden Cotopaxi is definitely an amazing place to stay to experience this natural wonder.  There are a few different options to suit all budgets from dorm rooms to the hobbit rooms.  In our case, we decided to treat ourselves and it was so worth it! 
It's not all about the room...
However, this isn't the be-all and end-all of Secret Garden.  No matter what room you go for, everyone can enjoy the homely feel of the communal area. This includes hammocks, a sofa area, books, board games and the huge dining table where visitors can enjoy their daily meals included in the price.  There is also a huge hammock to embrace your surroundings outside.  Not to mention the jacuzzi complete with volcano views! 
Fancy some more Cotopaxi activities?
There are tours available, from short walks to horseback riding and of course, a visit to the volcano itself. However, you are more than welcome to just sit back and relax in the Ecuadorian countryside. Ah, bliss!  
How to Get to Cotopaxi
You can organise being taken to Secret Garden Cotopaxi through their hostel located in Quito.  There are also many companies who offer tours of the volcano from Quito. You could continue your trip onto Baños if you're backpacking through Ecuador.
Mindo Cloud Forest – 2.5 hours from Quito
Mindo is a beautiful oasis close to Quito and perfect for day trips from Quito or an overnight stay!  Once you've bypassed the ever-winding road to the forest, you will literally head through the clouds and come out to this little subtropical haven on the other side.  There's plenty of things to do in Mindo and there is something for everyone.  The town is also full of cute restaurants and cafes for the foodies.  Namely, there's a butterfly park, waterfalls and beautiful surroundings for the nature lovers. Also, for the more adventurous (like us), there are options like to zip-lining through the cloud forest canopy, canyoning or going tubing down the Mindo River. We also splurged a bit on accommodation...
Quito to Mindo - How to Get There
A direct bus runs from Quito Terminal La Ofelia, we opted to catch a taxi here instead of a bus to avoid a long transfer time. Alternatively, Rome2Rio offers these travel options for Quito to Mindo.
Where to Stay in Mindo
There are some amazing places to stay here if you fancy treating yourself.  We stayed at Hosteria Saguamby.  This was undoubtedly a lovely change of scenery from our usual hostel setting! Also, it had one of the best bathrooms we've ever seen! 
Lake Quilotoa – 4 hours from Quito.
It's not very often that you get the opportunity to see a lake in the crater of a volcano.  However, Ecuador likes to spoil you!  Lake Quilotoa, with its gorgeous blue hue, is a stunning sight to see and one of our unique places to visit near Quito.
Lake 
Quilotoa
 Loop
One of the most popular ways to experience the lake is by doing the 'Lake Quilotoa Loop'.  This is a 40km trek, which can take 2-5 days to complete.  The trek takes you through rolling green hills, valleys and small traditional villages before ending at the lake itself.  Depending on how many days you have, you can start the trek in Sigchos or Isinlivi and make your way to the crater.  Alternatively, if you don't mind the highlight coming first, you can also start at the crater.  As a result, you'll have an easier descent through the loop. Luckily, now that the path is well signposted, you don't need a guide for this trek.  Therefore, you can simply grab a map from one of the hostels and make your way around.  
Don't Fancy Hiking?
There are also plenty of ways to enjoy the lake without the need for a big hike.  You can, of course, just make your way to the crater and enjoy the views from up top.  You can even venture into the water and take a boat tour or hire a kayak and do some exploring yourself.  Either way, you're in for a treat! 
Getting To Lake Quilatoa
Lake Quilatoa can also be reached from Latacunga alongside Cotopaxi. If you have more time, combining both Lake Quilatoa and Cotopaxi would be a great extension to your day trips from Quito.