Vanuatu is a country, which is part of the Pacific Islands, nearby the more famous Fiji.  Vanuatu has been voted the happiest place on Earth on more than one occasion and within moments of arriving, it is evident why.  With this country still being relatively unknown and untouched, it holds a certain charm that can't be found in the more popular tourist destinations.
There are many islands that make up Vanuatu but there are 3 favourites amongst visitors; Efate, Tanna and Espiritu Santo.  Efate is home to the capital of Vanuatu, Port Vila and this is most likely where you will be flying into.  It is also possible to fly internationally into Espiritu Santo, however Tanna can only be reached domestically.
With Efate being the main port of call to most visitors, there are plenty of activities to do.  Tanna Island is famous for housing the most accessible, active volcano in the world and Espirtu Santo has the country's most idyllic beaches and some fab diving experiences.
Unfortunately we didn't have time to visit all 3 but we chose to head to Efate and Tanna.  We found that there isn't much information out there to help plan a trip to Vanuatu so we are here to lend a hand, after having an incredible 10 days exploring this beautiful country.
Efate
There are so many activities to do on Efate Island, suited to all styles of travel. We've provided a list of the activities and the islands you can visit during your stay. Read on to ensure you don't miss the best Efate Island has to offer!
Things To Do
Round Island Tour
The most popular tour you'll come across is the Round Island Tour. Chances are, you'll have a handful of people offering to take you on this tour from your hotel staff to your bus driver and locals on your bus too! As well as there being many options on TripAdvisor too.
If you're short on time, it is a great way to see a lot of the island in a day but if you do have more time, we'd recommend doing these activities in your own time, rather than having the time pressures of seeing everything at once! 
Top tip: the Round Island Tour is quite expensive so we would recommend hiring an ATV or another form of transport and going around the island yourself.  You will save money and get to see the attractions in your own time.
Get Cultural with traditional Ni-Vatu people
Vanuatu has a very interesting history.  You'll soon learn of its cannibalistic past and most likely want to know more. We did a tour around Ekusup Cultural Village to learn more about the Ni-Vatu people, how they survive on an island so often at risk of Cyclones and the interesting ways they gather and keep food. We'd highly recommend this tour whilst you're on Efate Island.
Go and find Nemo whilst Snorkelling
The Snorkelling in Vanuatu is some of the best we've ever done, from the most beautiful and vast coral to the hundreds of colourful fish and starfish.  It is a must do activity when visiting the Islands. All of the islands have a unique snorkelling experience to enjoy so have your snorkel gear at the ready!
Quick note: Don't panic if you don't have any snorkel equipment as most tours provide equipment and you can hire them from most of the islands too. Port Vila also has lots of shops selling cheap swimming gear if you'd like to grab your own.
See a Fire Show
There is a local team of fire dancers that frequent different bars and resorts throughout the week.  The best to place to catch them is on a Friday at Beach Bar at 7pm.  It's a fun way to get into the holiday vibe and support the locals, who are proud to announce that they can now work full time as fire dancers thanks to the tourist and resort support on the Island.
Due to this show, Beach Bar is very busy on Friday nights, so it's advised to make a reservation here if you'd like a table.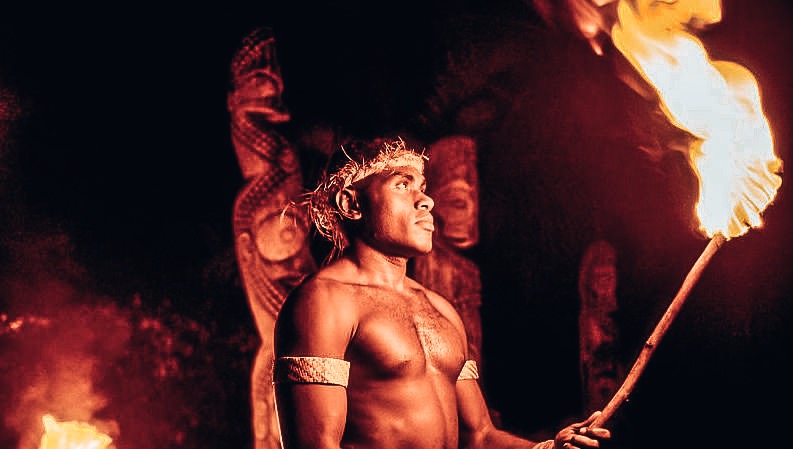 Chase Some Waterfalls
There are many waterfalls on Efate Island to check out depending on the level of hiking you enjoy and if you have a car or driver to drive you into the jungle to find them.
The easiest to access, with a short hike and no car necessary is the beautiful Mele Cascades.
We'd highly recommend giving yourself half a day to really enjoy these cascades. There's a cafe at the entrance to grab some snacks and if you're lucky one of the locals might show you some traditional Ni-Vatu sand art too.
A few things to note during your visit:
It's around a 30 minute walk to the top of Mele cascades so give yourself plenty of time to return before dusk falls and the mosquitos come out!

Whilst it looks pretty daunting, there is a secret passage behind the main waterfall - we dare you to find it!

If that isn't enough for our adventurous readers, you can also head back down to the entry by jumping and sliding down through the waterfalls pools!
Discover the Hidden Beaches
Espiritu Santo is more famous for its paradise beaches but Efate does have its fair share too.
There is an abundance of hidden beaches, particularly around the Eastern side of the Island close to the Blue Lagoon, mentioned below. Some of these beaches have a small entry fee so ensure you have a little cash with you before setting off.
We particularly loved Honeymoon Beach near Pango and if your visit falls on the weekend you should also try to visit Etmat Bay too. Eton Beach is a popular beach and is included on every Round Island Tour.  However, if you visit in your own time, you can enjoy a less crowded version and maybe even get it to yourself! Its pristine white sand and blue waters are unmissable.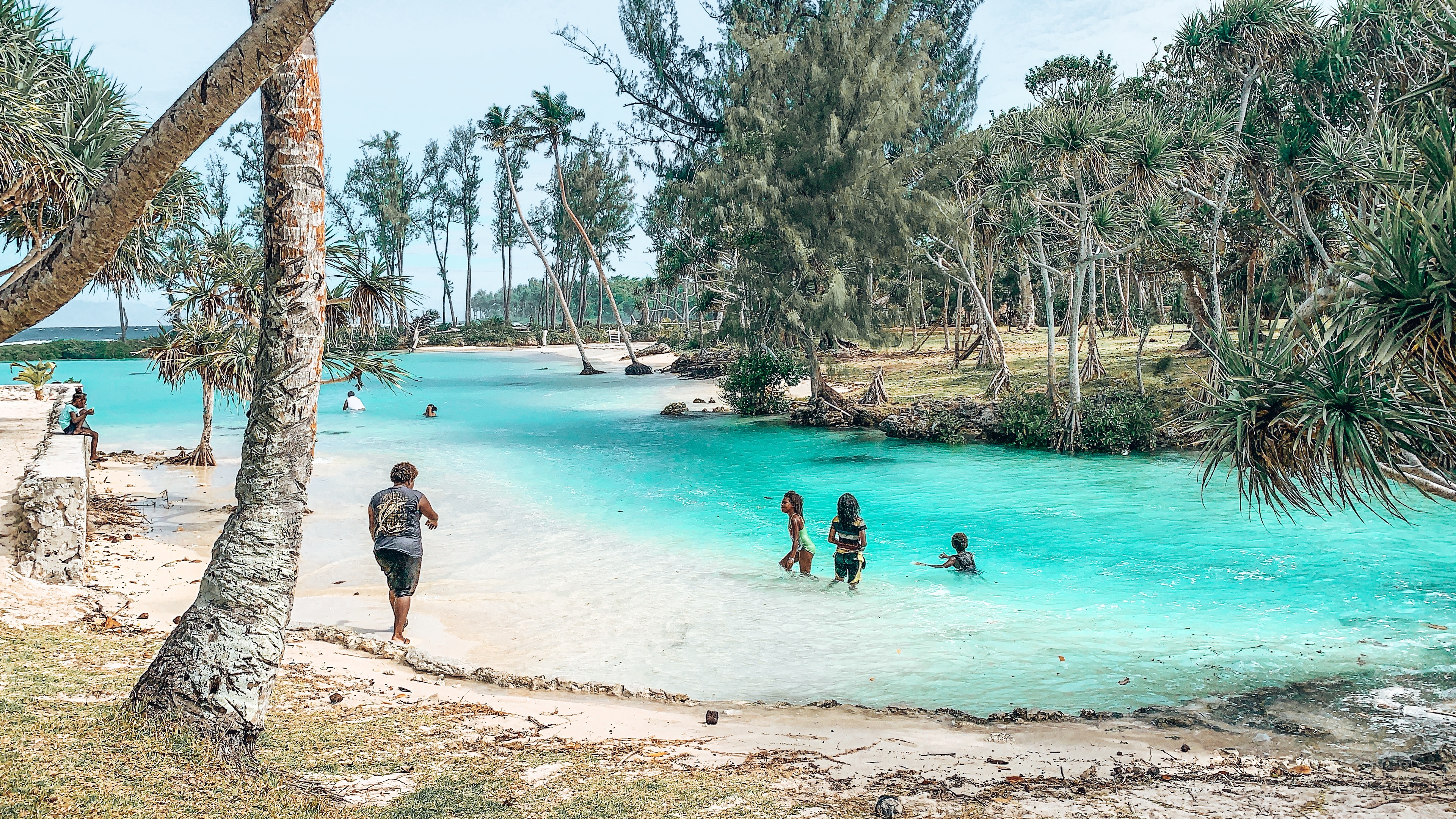 Splash in the Blue Lagoon
This is a really fun way to spend your time in Vanuatu. You can either have fun jumping off the rope swings and crashing into the water or it's equally as enjoyable to take a dip in the beautiful blue waters and watch the locals show off their fine-tuned jumping skills! Entry is 500 Vt, there's some small picnic benches and chairs to enjoy some snacks and if you have some snorkel gear and sea shoes, we'd recommend bringing them along too!
Try Kava!
Kava is the traditional drink had by most Ni-Vatus, which is supposed to make you feel very mellow and relaxed when you drink enough of it. We personally couldn't bring ourselves to drink too many coconut 'shells' of it as it's not the most delicious of drinks! All the same, it's part of the Vanuatu experience so try at least one! Kava bars are all over the island and easily found by a small light being shone onto the road outside. We drank at the Kava bar in Secret Garden, which was fun, as the owners were be able to teach us the history and how to drink their native drink like a local!
Visit the Markets
There are a number of markets around Efate, with the two key ones to check out being the arts and crafts market and the food market found by Downtown Au Bon Marche. We loved the food market, as the fresh fruit and veg was delicious and super cheap. Alongside Au Bon Marche, which is the main supermarket in Efate, you can easily stock up on all the food you need!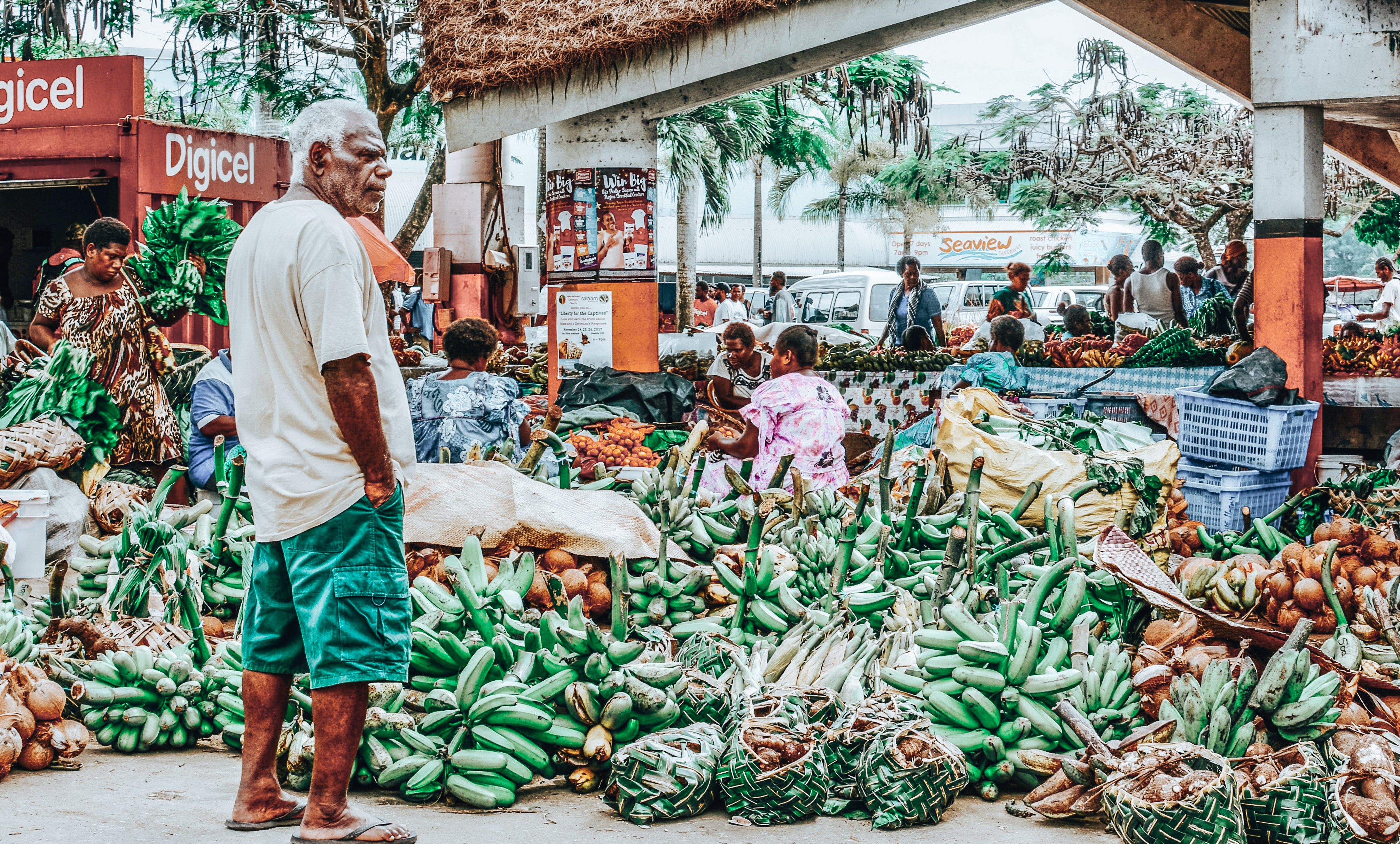 Try the Local Coffee
Although the local coffee is from Tanna, the Tanna Coffee Factory is located in Port Vila.  We didn't visit the factory unfortunately but if you do have the time, the tours are actually free!  If you don't manage to get round to it, just order a Tanna Coffee at one of the many cafe's in Port Vila instead!
Visit the Islands
There are many different islands to choose from in Efate so here is a summary of our favourites:
Hideaway Island
Hideaway Island is a must-visit island. Not only are you visiting a beautiful island with pretty epic snorkelling, you can also send a post card anywhere in the world for the small price of 400 Vatu in the world's ONLY underwater post office!
You literally have to dive down and post it in a cute little post box under the sea.  Both our postcards arrived to the UK safely so we can certify that the postman really does come to gather the post! Get your waterproof postcard in the gift shop as you enter the island and have fun searching for the box and holding your breath to dive down! We'd definitely recommend going midday when the tide isn't too high!
There is a small fee of 1000 Vatu to visit the island but we promise it's worth it! The slushy cocktails are also delicious.
Erakor Island
This island is home to 100s of red and blue starfish! We'd never seen so many starfish before in or out of an aquarium. It was a really fun afternoon and the island itself it beautiful too. If you follow the path through the resort, you'll find the cute little Sunset Beach, which was completely empty when we visited.
Bonus for this island is that the entry fee of 1500 VT can be redeemed for food, drinks or spa treatments on the island.
Irikiki Island
This island is really beautiful and can be seen from the bay in Port Vila. The entry cost is a little pricier at 2500 Vt, although this includes the use of kayaks, snorkelling equipment and 1000 Vt is redeemable for food, drinks and spa treatments too.
Lelepa Island
Lelepa Island is a particularly unique experience as this island can only be visited on a tour and there is only one company that operates it too. So the small group you're visiting with will be the only tourists with you on the whole island!
During the visit you'll see historical caves, World War II plane ruins, enjoy a few short jungle treks and visit the locals in the Lelepa Island village and school. Of course, you'll also enjoy some of the most incredible snorkelling! We found Nemo and his friends and fed thousands of fish during our deep sea snorkel too.
The tour also includes a lovely buffet lunch.  Our recommendation would certainly be to do the Round Island Tour on your own and choose this tour instead.
How to Travel Around
Efate Island can be driven almost entirely on one road. It's a little busier around Port Vila and Pango but the rest is an open road with beautiful scenic views of forestry and beaches to enjoy.
The Bus
The bus costs 150 Vatu per person to go pretty much anywhere on the island.  The buses are little minibuses with the letter B next to the license plate and can easily be hailed down.  Once you've stopped a bus, confirm your destination with the driver and hop in!
Things to note:
Sometimes the bus drivers try to charge tourists more for their journey, especially from the airport to your accomodation.  We found the best way was to simply hand them the fare when departing the bus, rather than asking how much it is.  We had no disputes when handing over 300 Vatu for the two of us and would sometimes pay more if the journey was quite long.
Taxi
Taxis can be found with a T next to the license plate number.  Of course, taxis come at a higher cost but if you're travelling as a larger group it will probably be easier to travel around the island this way. The golden rule is to always agree on a price before embarking on your trip.
Hired Vehicles
We hired an ATV for a day and absolutely loved the freedom it gave us to roam the island as we pleased.  There are plenty of car, ATV, buggy or motorbike options to hire.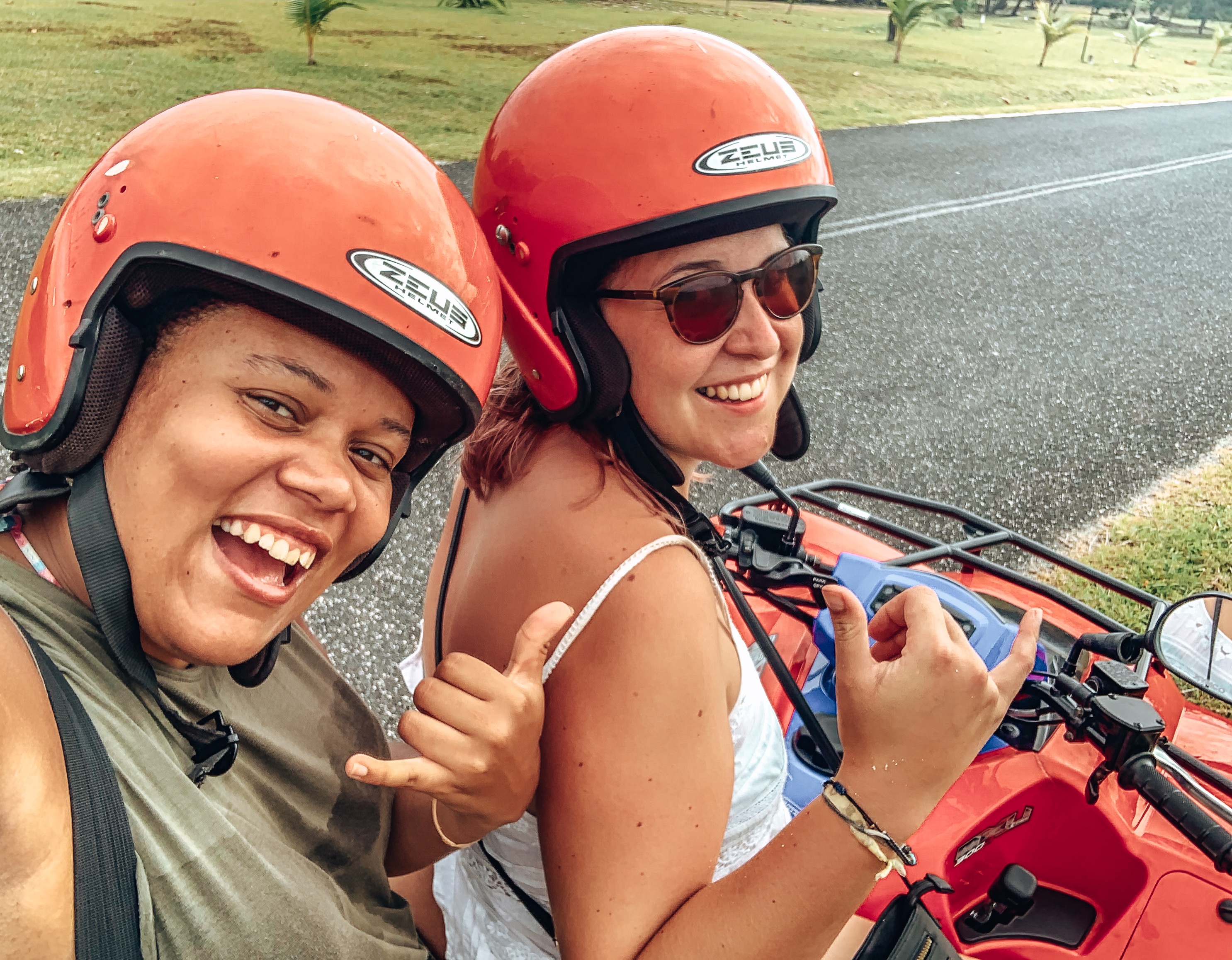 Where to Stay
Vanautu has a variety of different accomodation styles, from resorts to hostels. There's a good set of mid-range hotels and self-catering accommodations in and around Port Vila and if you really want to splash the cash, the top resorts have their own islands! We opted to stay in the mid-range style of accommodation, both to the North and South of Port Vila. We loved this as it meant we were close to the different activities on each half of the island and we could save on food expenses by self-catering during our final few days!
Secret Garden
Secret Garden was our first stop, it provided us with an insight into the culture and style of living of Ni-Vatu people, being the home of the Mele Bay Cultural Centre too. The owners Jenny and Tony were extremely accommodating and helped us settle into the Island ways. We learnt how to drink the Island's favourite tipple Kava and enjoyed some delicious traditional food whilst we were here too.
Secret Garden is beautifully designed from reclaimed wood, housing a tree house seating area to eat and enjoy some drinks. It has a nice pool to enjoy right by the bar and is also surrounded by a large cultural centre, which is an easy way to while away an afternoon - swimming, sunbathing and learning about the Ni-Vatu people and the history of the islands.
We loved our stay in our cabin and would highly recommend it! It is based in Mele, where you can walk to the Mele Cascades, Hideaway Island and Beach Bar and it's just a short drive from the airport too!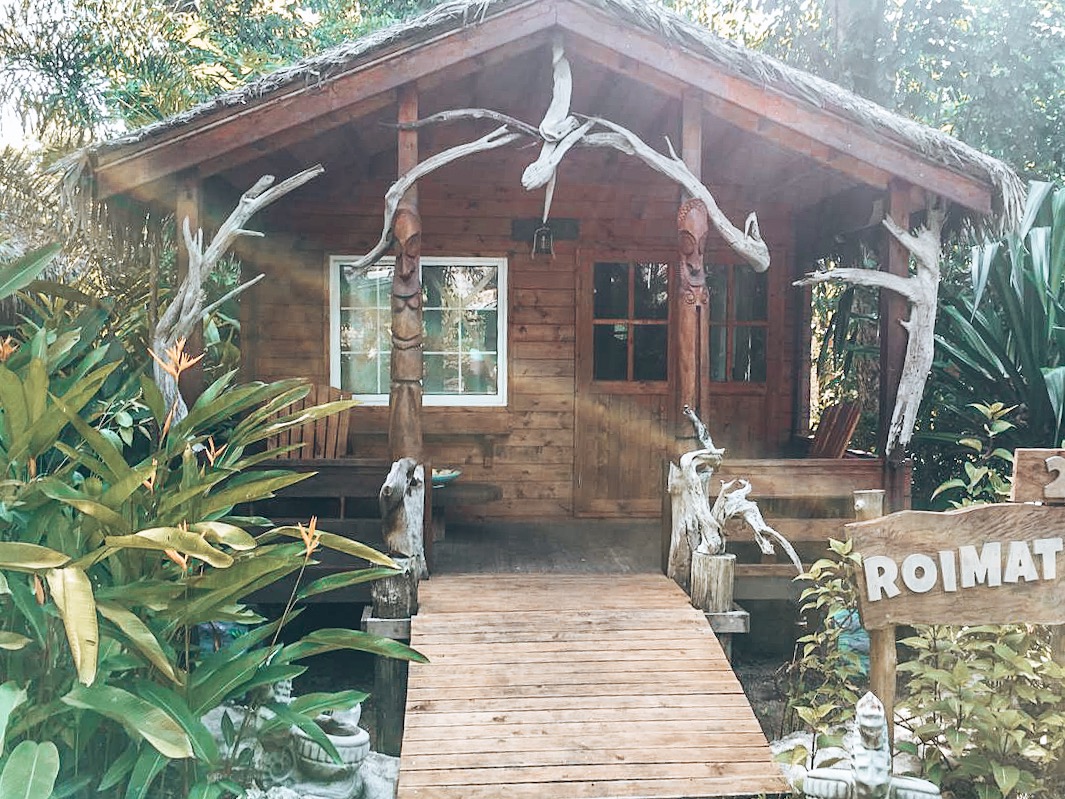 Angel Fish Cove Villas
Angel Fish Cove Villas are in an area called Pango, to the south of Port Vila. Whilst it was self-catered, the vibe certainly felt like a resort. Our apartment had its own plunge pool and there's also a larger communal pool to enjoy too. Free kayaks and snorkelling equipment were available to use on the beach at the back of the villas, which was an awesome addition as the snorkelling in Vanuatu is simply incredible.
This side of the island was ideal to visit the Blue Lagoon, Honeymoon Beach and many other beautiful white sand beaches. This side of the island is certainly the place to stay if you want to easily find a secluded beach to yourself!
Where to Eat
The Beach Bar
We loved coming here for breakfast.  They always had some great options, including a delicious corn fritter stack made vegetarian for us and some tasty dinner options too. 
They also have a free fire show on every Friday night and plenty of other fun evening activities to enjoy too. Check their website for more information.
Exotic Thai K&A
We absolutely love Thai food and finding this gem slightly up in the hills made for a really lovely meal. We didn't make it for sunset but we're sure it'd make for some beautiful alfresco dinner scenes!
Rossi's
We found this place on the waters in Port Vila town.  They do a great lunch time deal with a freshly squeezed juice starter and main. We'd definitely recommend for our hungry budget travellers with a meat, fish and a pasta option, it is an easy crowd pleaser too.
Jill's Cafe
For those who like to have some homely comforts, Jill's cafe offers the all American diner experience! The menu has all your gut busting favs from burgers, waffles to giant milkshakes and sundaes!
L'Houstalet Restaurant
L'houstalet is a Vanautu favourite.  It is the only French restaurant in Port Vila and has been family run for over 45 years. We unfortunately didn't get a chance to visit this iconic restaurant but it still deserves a mention.
Something to note:
A few of the restaurants in Vanuatu will serve Coconut Crab with an expensive price tag, claiming that the crab mostly eats coconuts and therefore naturally tastes of coconut.  The truth is that these crabs are now extremely endangered and coconuts are actually not a significant part of their diet and are only flavoured with coconut during cooking so please try to refrain from ordering this.
Tanna
Tanna Island is a much more rural experience than the other main islands.  The roads are barely paved and there isn't the same amount of infrastructure to cater to visitors, such as public transport and readily available supermarkets.  However, this adds to Tanna's charm, where it is a unique experience just to drive around the island.
The island is split into two, the Eastern side is where the volcano is and the Western side is where the airport is located, alongside the more resort style hotels. The only way of getting between each side of the island is a 1.5 hr drive over dirt tracks and ash plains, which is an epic experience.
Ensure you come to Tanna with plenty of cash as there is only one ATM on the whole island that accepts international cards.
Things to do:
Visit a Volcano!
The most famous attraction on Tanna Island is Mount Yasur, the world's most accessible, active volcano.  We chose to visit Tanna so that we didn't miss out on this once in a lifetime experience and we would very highly recommend it. You'll be taken up on the back of a Ute to the top of the volcano, with a short 10 minute walk leading you to the crater's edge! This experience is out of this world! You'll see hot lava exploding out just metres in front of you like fireworks and if you've missed out on sending a postcard from Hideaway Island, you can also send a postcard from the volcano too!
It is possible to fly into Tanna in the morning and visit the volcano in the same day but even if you are planning to visit Tanna solely to see Mt. Yasur, we would recommend booking an extra night just in case weather conditions don't go your way.
Swim in a Blue Cave
The Blue Cave is simply beautiful.  Once you have arrived at the limestone edge, accessing this remarkable natural cavern requires you to swim underwater for approximately half a metre.  When you emerge, you will be greeted by this natural grotto, with the light shining through the cave roof above onto the stunning turquoise interior.
Check Out One of the Biggest Trees in the World!
Banyan trees are a necessity to the Ni-Vatu people as they use these hollow trees as shelter from the cyclones and also for shade during the extremely hot weather. You'll find these trees all over Vanuatu but none compare to the one that can be found on Tanna Island, spanning the size of a football pitch!  It is remarkable and definitely worth seeing.  You may be able to organise a quick stop off there with your driver when making the journey across the island for the volcano or back.
Get Acquainted with the Locals
Visiting a Kustom Village in Tanna is one of the best ways to experience this side of Vanuatu life, with a less saturated feel. Visiting a Kustom Village will allow you to experience a way of life that hasn't changed for centuries. The villagers are very disconnected to ways of the Western world and continue to embrace way of life dominated by their belief in "Kastom".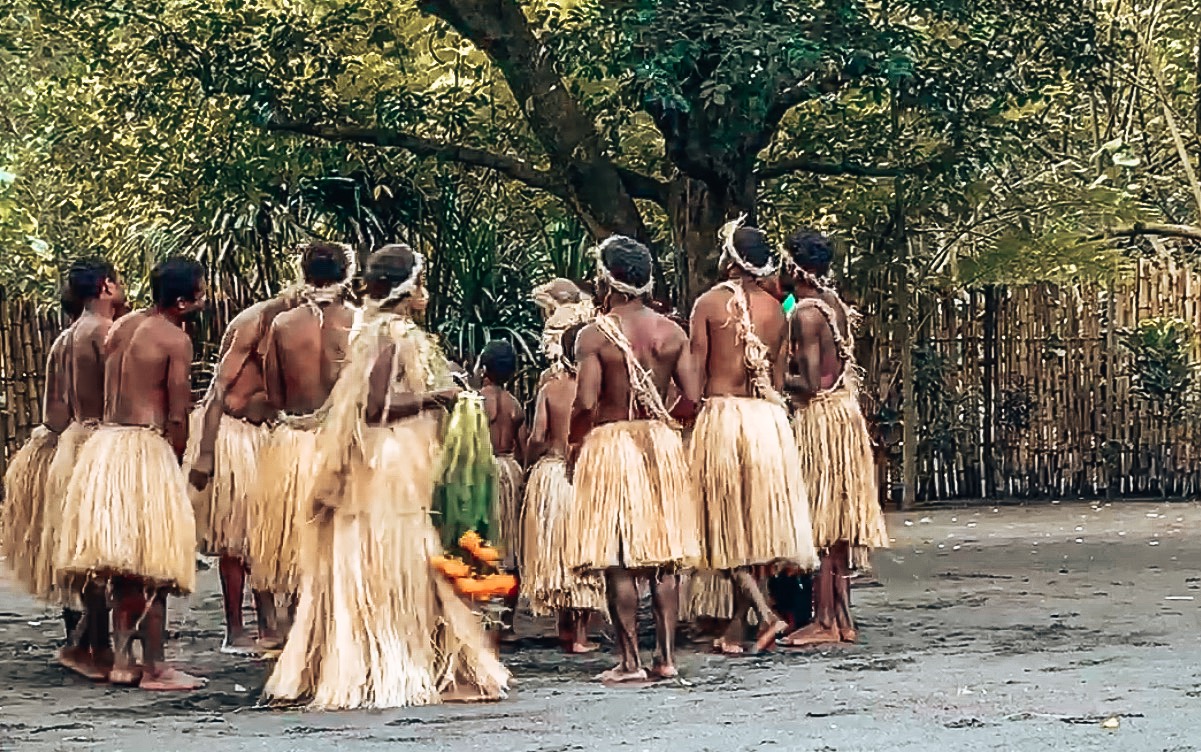 How to Travel Around
As there are no buses to transport you around the island, you'll need to arrange a pick up service to and from the airport and any excursions you choose to do. This is often offered by your accommodation.
The trip from the airport to the volcano comes at a hefty cost of around 5000 Vatu each way so ensure you have enough cash to fund your journey.
Where to Stay
We chose to split our time between a resort and a homestay village experience. We loved this as we got to experience how the locals lived and also got to enjoy a bit of luxury on our holiday. 
If you do this, we would recommend heading over to the East of the island as you arrive to see and spend time by the volcano and then head back to the West to experience the other attractions and to be close to the airport before you head back.
You'll find plenty of treehouse stays by Mount Yasur on booking.com.  The treehouses are basic but still provide you with everything you would need and are a fantastic experience.  Look out for ones that allow you to see the lava's firework show from your window!
Rockwater Resort
We loved our stay with Rockwater Resort! The protected marine sanctuary outside of Rockwater provided us with some of the best snorkelling we've ever done and it was amazing to just have that on our doorstep.  The eco-resort itself is absolutely beautiful, crafted out of the limestone cliffs.  Rockwater really gives you a sense of holiday relaxation and the owners are so lovely and helpful.
Where to Eat
As we've mentioned, Tanna Island is not built for tourists so the only restaurant options are within the hotels. We had some tasty home cooked food in our treehouse stay and the restaurant is lovely at Rockwater.  The menu changed daily, providing starter, main and dessert options.  We highly recommend trying the poulet fish (a fish that has the same texture as chicken)!  The breakfast at Rockwater is fab too, with a delicious selection of homemade jams.
If you're budgeting, we'd recommend bringing some food over from Efate, as the couple of convenience stores on Tanna are very limited.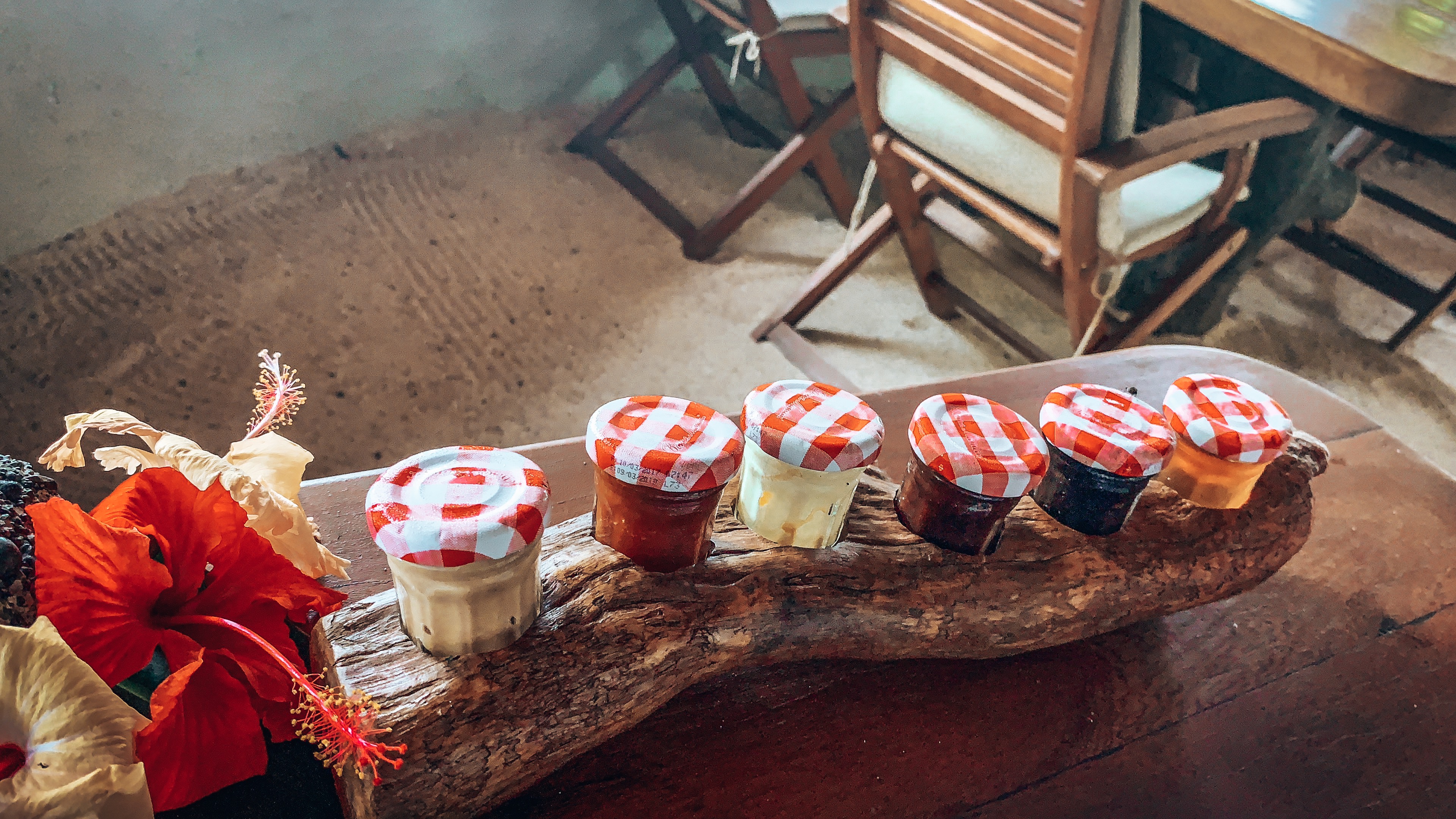 Espiritu Santo
As mentioned before, we didn't have the time to visit this island but it is known for its pristine beaches so if you're looking for more options of white sand to relax on, this is the island for you.
There is also some epic diving here, with the opportunity to dive into a shipwreck from World War II!
If you have the time and funds to visit all 3 islands, we would recommend flying into one airport and out of the other so save time and money on needing a return flight.
One Last Thing... Learn the Language!
There are 3 official languages of Vanuatu; French, English and Bislama.  Bislama is a mix of French and English and is the most widely used day-to-day language for the ni-Vanuatu.
Our favourite: the best = nambawan (number one). It makes for a bit of fun trying to work out what the broken Pidgin English words say on the signs around the island.  Here's a few examples to start you off...
You may also like...
[wpspw_post category="99" content_words_limit="0" show_tags="false" show_date="false" show_comments="false" show_author="false" grid="3" limit="3"]