We've shared the top things to do in Dublin with all the places we visited during our trip to this beautiful Irish city. We took a day trip out of the city by train and found some celebrity houses, the best pizza spot in Dublin and some unmissable tourist attractions.
Have fun and let us know if you find things we've missed!
The Leprechaun Museum
We had a great evening touring the Leprechaun museum for their adult night tour. You learn all about the old folklore and real history of those little Irish fellows. We assure you they aren't half as sweet as they seem on the Lucky Charms cereal boxes!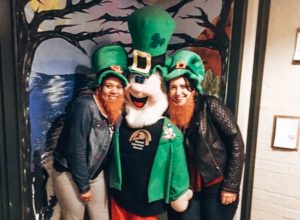 Howth
A little harbour village just half an hour from Dublin on the DART train was a great little discovery. You will find some delicious fish and chips here. There are also many stylish fish restaurants to try too, depending on how much time you have.
Whilst here, you can also enjoy a ferry tour from Ireland's eye and take a couple of hours to enjoy a relatively easy trek to some beautiful views from Howth Summit.
Killiney Hill
Continue your journey from Howth by jumping back on the DART to visit Kiliney Hill. As the name permits, there is quite the trek up through Killiney, but the views from the top are beautiful. It's a great achievement to see the steeple looking tiny from the bottom and finally reaching it at the top.
We also found out that Bono and Enya both live on the hills here and you'll no doubt be able to spot the beautiful gardens of Bono's house and the unique castle looking building which is Enya's home too!
Molly Malone
Have you even been to Ireland if you haven't sat with sweet Molly Malone... and maybe groped her boob? (We won't tell if you don't!). Originating from a traditional Irish song, Molly Malone is the unofficial anthem of Dublin, sweet Molly and her buxom bosoms can be found at the end of Suffolk Street.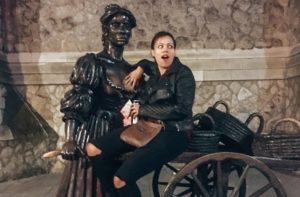 Trinity College
Trinity College is essentially the Oxford or Cambridge Univeristy of Ireland. This building is situated in the heart of Dublin and is home to some beautiful architecture, within some very well looked after grounds. Definitely make sure you visit the Library too! It is Ireland's largest library and holds the famous book of Kelis, which you'll be able to see too.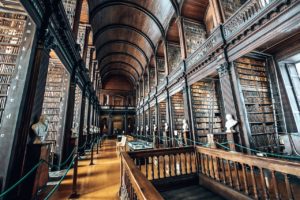 Temple Bar
Temple Bar is famous because it is one of the oldest buildings in Dublin, dating all the way back to 1599! We should warn you, it is a little bit of a tourist trap and the drinks are very expensive but when in Dublin!
Oscar Wilde
Another popular statue to visit in Dublin is one of Oscar Wilde. It is situated in a small park and is also opposite his home, which you can visit too. We didn't do that part but if you're interested in visiting his home, you can find more information and how to plan your visit here.
Ha'Penny Bridge
Our Airbnb stay was very close to Ha'Penny Bridge, so without trying we were able to walk over it and get some great shots everyday. It's a cute little bridge that you should definitely check out during your stay, preferably at night!
A little bonus..; If you're peckish near here, we found an amazing pizza place called Di Fontaine's Pizzeria. We warn you though, you might not get to an actual restaurant again after finding this spot, we sure didn't!
You may also like...
[wpspw_post category="61,49" content_words_limit="0" show_tags="false" show_date="false" show_comments="false" show_author="false" grid="3" limit="3"]